In the bustling world of architecture and construction, Architect Sucheta Mehetre shines as a true climate champion. As the owner of Astha Designs, her Pune based firm is at the forefront of pioneering work in green building designing and transformation. With a remarkable presence across 12 cities, Sucheta's visionary projects have garnered recognition from esteemed agencies such as WELL, LEED, IGBC, GRIHA, Eco housing, and EDGE. Astha Designs boasts an impressive clientele, encompassing marquee clients from diverse sectors including hospitality, government services, retail, offices, institutions, malls, residential towers, factories, resorts and spas, hotels, and IT services.
At Astha Designs, sustainability consultancy and audit form the cornerstone of every project plan. Sucheta and her team firmly believe in the importance of flexibility, adapting to new challenges, and accommodating changes. Their primary objective is to provide comprehensive sustainable solutions while optimizing energy consumption throughout every phase of a project. With tight schedules in mind, they ensure the success of each endeavor, making project certification a natural byproduct and the attainment of the targeted rating system an assured output. Throughout the process, they actively seek out innovative measures tailored to each project, embracing new technologies to create sustainable, cutting-edge designs.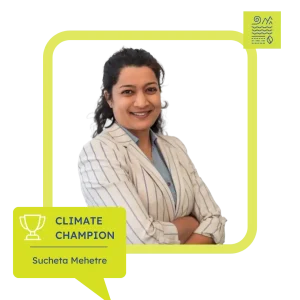 The expertise of Astha Designs spans a wide range of areas. They excel in Sustainability Master Planning, devising holistic strategies to infuse sustainability into the fabric of a project from its inception. Their High Performance Building Design showcases their prowess in creating structures that maximize energy efficiency and minimize environmental impact. Astha Designs also specializes in the Greening of Existing Buildings, implementing transformative solutions to revitalize structures with sustainable features. They extend their green initiatives to both residential and commercial buildings, ensuring that sustainability is accessible to all. Additionally, their expertise in Building Commissioning ensures that projects are meticulously evaluated and fine-tuned for optimal performance.
Beyond their paid services, Astha Designs demonstrates its commitment to making a difference by providing pro-bono assistance. They offer Feasibility Reports for certification, helping clients navigate the process with ease. Cost Implication Analysis allows stakeholders to understand the financial benefits of sustainable practices, empowering them to make informed decisions. Astha Designs also offers guidance in shortlisting the most suitable rating system for each project, further emphasizing their dedication to tailor-made solutions.
Sucheta Mehetre's journey as a climate champion is characterized by passion, innovation, and an unwavering commitment to sustainable architecture. She firmly believes that the built environment has the power to create a positive impact on both the planet and its inhabitants. Her visionary leadership has placed Astha Designs at the forefront of the green building movement, inspiring other architects and developers to follow suit. With each project, Sucheta and her team strive to push the boundaries of what is possible, constantly seeking new avenues to integrate sustainability into their designs.
As a climate champion, Sucheta Mehetre stands as a beacon of hope, showcasing that architecture and construction can be a catalyst for change. Her work demonstrates that the pursuit of sustainability is not only a moral imperative but also an achievable reality. With her unwavering dedication, Astha Designs is transforming the landscape of the industry, one sustainable building at a time, as they pave the way for a greener and more resilient future.
To know more about Sucheta and her firm, you can visit https://asthadesign.com/ .